Mention fashion photography and some will recall the words of Linda Evangelista when she said 'I don't get out of bed for less than $10,000 a day' but fashion photography – as I have learned – is not just a jet-setting world of fancy studios teeming with assistants and racks of Haute Couture…
While some manufacturers will, of course, hire studios and bring in models who will be photographed wearing the next season's collection there are also smaller companies who will send dresses, outfits and accessories out to models who will then be asked to submit photographs of themselves wearing the outfit. I can help with this.
Aspiring models may wish to have photographs taken for their portfolio and, again, I can help with this in the same way as I can take headshots for actors though for models I would recommend that we have a conversation to determine the images that you were looking for, whether costume changes were required (which would need to be considered when choosing a location) and whether a hair & make-up artist was required.
When a shop has a collection of dresses for the new season, I have also arranged a shoot on location where the models have worn several outfits to show the available new styles for day and evening wear. One of the models that I have worked with is also a very accomplished hair and make-up artist (who are sometimes referred to as HMUAs) who I now work closely with and can be brought in on a shoot to provide contemporary or retro styling for the models.
I will always try and support local, independent businesses in whatever way that I can and I believe that my pricing would reflect that intention. That said, arranging a fashion shoot can be quite involved; location, models, outfits, styles & styling as well as timing but even at a modest, local level these things are achievable. I have seen local shops with very attractive garments but who rely on a quickly taken photograph or video to advertise their range but could, for a very reasonable outlay, could be presented in a way that would have far more impact.
As I mentioned above, I am keen to support local independent businesses and my pricing will always reflect that but I am equally keen to see creators, producers and sellers of garments being able to share high-quality images of their products and attract customers to them.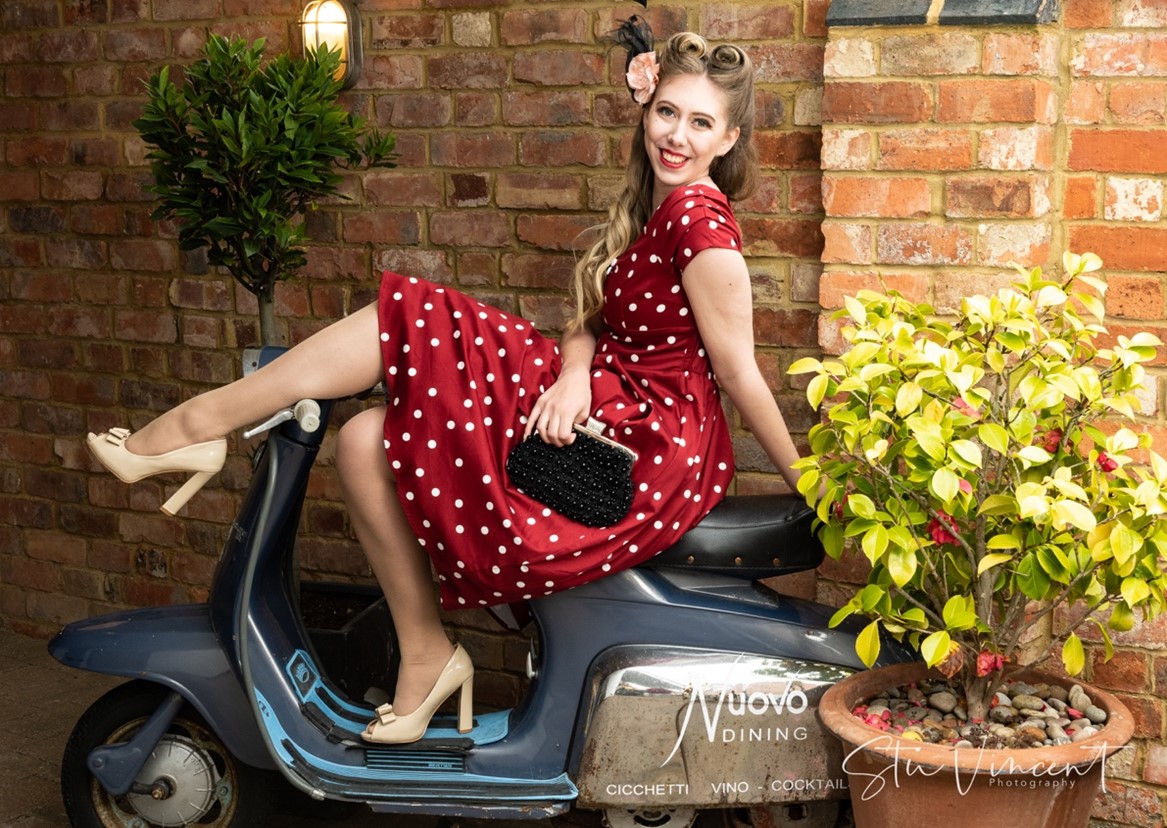 The image above was taken for a 'new season' campaign for the Bohemian Finds boutique in Northampton at my favourite restaurant, Nuovo. For this shoot, I was accompanied by the owner of Bohemian Finds, my hair & make-up artist and several changes of outfit for the models. Nuovo were able to give me two hours at their location as they prepared for lunchtime opening. By planning ahead, we were able to establish a clear order for the outfit changes and the best locations at the restaurant for each set of photographs.
Sadly, we were not able to stay for lunch…. this time!
If the idea of such a collaboration appeals to you, drop me a line to arrange a no-obligation conversation by phone/Zoom at a time convenient to yourself. We would discuss what you wanted to see as well as the location/staging for the photographs. From there, if you wanted to proceed with me taking your photographs, we will confirm the date and time for me to I come to you, camera in hand!
Digital images are edited and submitted to you within 72 hours – if you wished to have some images printed, I can arrange this though additional costs would be incurred. The print costs would depend upon the size and number of prints and how they should be presented and delivered, all of which can be discussed.